10-pack 2x Polarizer Filters 8x Neutral Density filters for DJI Phantom 3 Standard
$

36.00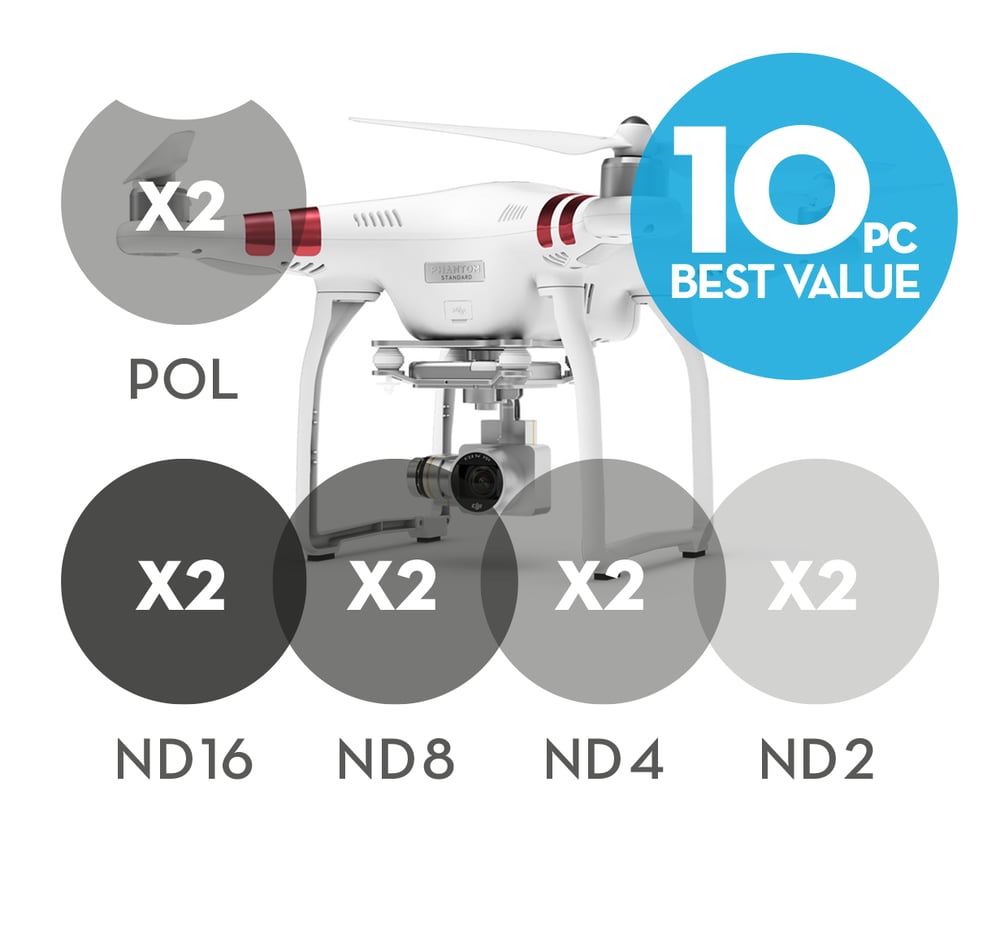 10-pack filters for DJI Phantom 3 Standard - BEST VALUE
The 10-pack includes:
2x Polarizer filter (POL-filter) (ultra light weight)
8x ND-filters (ultra light weight)
Doublesided adhesive pads for installation
Neutral Density (grey) filters:
2x ND2 (0.3), 2x ND4 (0.6), 2x ND8 (0.9), 2x ND16 (1.2) (=ND32).
The POL (Polarizer)-filter reduce reflections and adds saturation and contrast to color and makes the sky more blue. The 10-pack includes 2 POL-filters. POL-filters can be used together or together with ND-filters.
The ND-filters reduce light in order to slow down the shutter-speed of the DJI Phantom 3 Standard 2.7K camera. The correct shutter-speed help eliminate "jello"-effect and help improve video quality by introducing a natural motion blur for smoother motion in video in bright daylight situations.
Weight: Less than 0.2 grams
(Safe to use - PhantomFilters are ultra light weight and do not impede with the operation of the DJI Phantom 3 gimbal).
The filters install in front of the UV-filter on the DJI Phantom 3 Standard camera. Learn more about how ND filters work on the "Why ND filters?".
The filters can stack - making it possible to install combinations of filters at the same time for a stronger effect for very bright days and to use the POL-filter together with an ND-filter.
FREE ebook with Tips & Tricks for flying and shooting video with the DJI Phantom.
$36
FREE Shipping & Handling (Worldwide).